2015-12-09
President Ilham Aliyev met with Governor of Shaanxi Province Lou Qinjian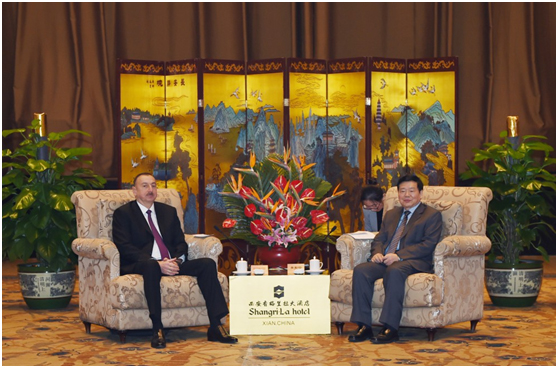 President of the Republic of Azerbaijan Ilham Aliyev has met with Governor of Shaanxi Province Lou Qinjian.
Lou Qinjian said he was happy that President Ilham Aliyev started his state visit to China from Shaanxi Province. Describing the head of state as a outstanding leader, the Governor stressed that Azerbaijan`s economy has been developing well under the leadership of President Ilham Aliyev. Noting that there were certain similarities between the Province and Azerbaijan, Lou Qinjian highlighted the history of Shaanxi Province, which is located on the ancient Silk Road. He said that various sectors of the industry were developing here, and multiple measures have been taken in order to modernize the telecommunications area. Saying "we are ready to cooperate with Azerbaijan in all fields", the Governor noted that President Ilham Aliyev`s visit to Xian would contribute to the strengthening of the friendly relations between Azerbaijan and Shaanxi Province and the development of cooperation in the energy and humanitarian spheres.
President Ilham Aliyev said he was happy to start his state visit to China from Shaanxi Province, adding there were many reasons for this. The head of state said Shaanxi has an ancient history, strong economy and industry. President Ilham Aliyev said he was greatly impressed by Terracotta Museum, saying this shows that the Chinese people have ancient history and culture. President Ilham Aliyev noted that this visit would create opportunities for developing the bilateral ties between the two countries and familiarizing Azerbaijan with Shaanxi-made products. The President said Azerbaijan wants to expand cooperation with China in all areas. The head of state noted that rapid economic growth has been observed in Azerbaijan and the country has been developing successfully in recent years, adding this helps the two countries maintain an active mutual cooperation
X X X
Following the meeting, Governor of Shaanxi Province Lou Qinjian hosted a reception in honor of Azerbaijani President Ilham Aliyev.