2015-12-10
President Ilham Aliyev met with President of the People's Republic of China Xi Jinping in an expanded format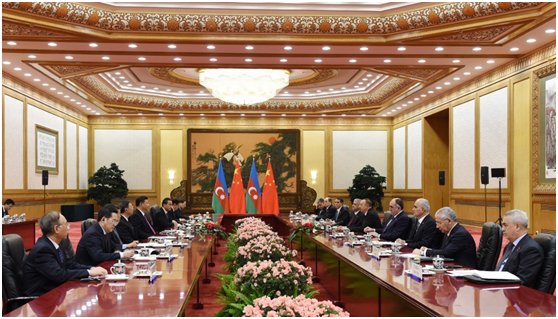 Following the official welcoming ceremony, President of the Republic of Azerbaijan Ilham Aliyev and President of the People's Republic of China Xi Jinping have met in an expanded format.
The heads of state addressed the meeting.
Chinese President Xi Jinping said:
- Mr. President, I am glad to see you in Beijing. Welcome to China on an official visit. For many years, China and Azerbaijan have been developing bilateral relations in the spirit of equality, mutual benefit and respect, and have strongly supported each other on issues related to the vital interests and major concerns. Our mutual political trust always strengthens and multifaceted cooperation continuously deepens. There is a solid foundation and broad prospects for the relations of friendship and cooperation between our two countries.
Mr. President is an old friend of the Chinese people. You have always made effort to advance Sino-Azerbaijani relations. Last year in May, you attended the Summit of the Conference on Interaction and Confidence Building Measures in Asia. On the sidelines of the summit, we had a chance to exchange views on bilateral relations and issues of mutual interest, and we reached mutual understanding on a wide range of issues.
I am ready to work with you, Mr. President, to strengthen our relationship further in order to maintain a high dynamics in the development of our bilateral relations. A few days ago, there was a fire on an oil platform in the Caspian Sea in Azerbaijan, leading to serious casualties. Taking this opportunity, I would like to express my deep sorrow for the victims on behalf of the Chinese Government and people, as well as myself, and extend my sincere support and solidarity with you, Mr. President, as well as the friends and relatives of the victims.
X X X
President of Azerbaijan Ilham Aliyev said:
- Thank you, Mr. Chairman. First of all, I want to thank you for the invitation to come to your country on a state visit. This visit will further strengthen the friendly relations between our countries. I also want to thank you for your condolences over the tragic events that took place in Azerbaijan and the death of many oil workers. Your condolences are the words of a friend. I am very grateful to you for that.
We have a strong relationship. We cooperate in many spheres as friends and partners. I know your kind attitude towards our country. The people of Azerbaijan know you very well, and appreciate your role in world affairs and your kind attitude towards Azerbaijan.
As you said, we met last year to discuss a wide range of relations between our countries. In the past year since our meeting in Shanghai, our relations have further strengthened. Today we will sign many important documents that will define the future development of our relations. Among them, of course, I would like to highlight the Declaration that we will sign. It reflects our intentions. We want to build up our relationships, develop the political dialogue, continue to cooperate actively in international organizations and strengthen our economic ties. We in Azerbaijan very much appreciate your initiative to create the Silk Road Economic Belt